As I sit here, Christmas doesn't look like it is all that close, but I will not let this catch me out Just when you think you have loads of time it seems to approach you from out of nowhere. You forget about Xmas for a few minutes and the next thing you know there are no free shopping days remaining and you haven't yet bought any gifts for your loved ones.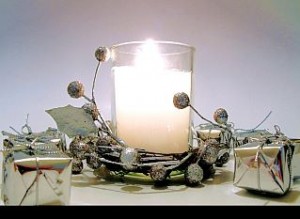 So, lets consider some of the opportunities we have for incorporating some home-crafting in the build-up to Christmas, and more importantly ask ourselves "is it right to include our hobby of crafting during the Christmas preparations"?
I believe there are a few bits of Xmas where 'hand-crafted' is a good thing, but on the other hand, there are times where it is maybe less of a good idea. For starters, we should address some basic safety issues and also consult with our loved ones.
Holiday Decorations
Most of us have enjoyed the school time activity of making paper streamer decorations for Xmas, and this is still a good thing now we are more mature. There are still some areas that one should avoid. For example, it is probably not a good idea to risk burning the house down by making decorations that might need a power source. So far, I have never burned my house down, however I suspect that burning down the house during Christmas is a tad more worrying than torching the place in summer. I also suspect that my partner would have a bit of a sulk about it!
Creating Xmas Greeting Cards
Creating Christmas cards may sometimes seem like a good option, but a word of warning here. Much like making your own Christmas gifts, this can sometimes offend people. Not everyone really likes being sent hand made xmas cards. More than likely we all know a relation or friend who seems to rate money and brand name products a bit higher than we might, and for this type of person a homemade card can easily be taken as negative. It beggars belief, but it does occur.
So, just make home made greeting cards for those that you know will appreciate it, and buy high quality personalised christmas cards for the others. Even a store bought greeting card can be enhanced to some extent by adding some extra glitter and a little bit of tinsel . If you want to really make a difference, you can start customising the inside of the card with pop-ups, applique, and similar samples of your handiwork. Obviously, you can't amuse everybody, but that doesn't mean you cannot at least try!
There are so many areas where home crafting can be used at Christmas that I can't cover them all, but here are two more that I love to do myself.
Christmas Music
Why don't you make a recording of your own Christmas tunes? No, I am not suggesting that you take up the bagpipes and rehearse for six months, I mean record a mix tape/CD or MP3 playlist. It won't take long, and could provide a nice background for the fun.
DIY Christmas Crackers
It seems to me that over time, commerical Christmas crackers have got worse and worse. The gifts inside them are inexpensive and ugly, the jokes are not even marginally funny, and the hats are still the wrong size for me. So, now we make our own every year. Of course, you can try to make them completely from nothing, but you can also find kits available that let you add your personal presents and messages inside. In either case, picture your guests' surprise when the gift and message that they are given are personalised for them (just take care not to get them mixed up).
OK, thats my views on crafting for Christmas expressed! Now it is time for me to stop writing and go start doing some crafting for myself. If you feel I have missed anything, or have any worthwhile hints, please do let me know.
Exceptions to the Above
However much you love crafting, there are some exceptions where one should NEVER send home made cards. If you run a small company, or a large one for that matter, then it is better to buy professionally made business christmas cards. If not, your clients will draw conclusions about your obvious cost cutting. Also, you have limited time, so do not make personalised cards for those people you hardly know – there are too many of them and you will end up cutting corners on those that DO matter.